Driven by Quality & Passion
At 320ink, we are passionate about what we do. It is our goal that your experience with us be friendly, easy, informative, and fun. We utilize state of the art equipment, and hire highly experienced printers, artists, and customer service representatives to ensure the best experience possible. We embrace technology and systems, and are always on the lookout for ways to improve our processes. When you trust us with your business, you can be confident that your order will be produced at the highest level of quality.
"Quality is just a word, an empty word at that, if it does not include;
balance, harmony, intention, and attention."
-Micheal Gerber
Humble Beginnings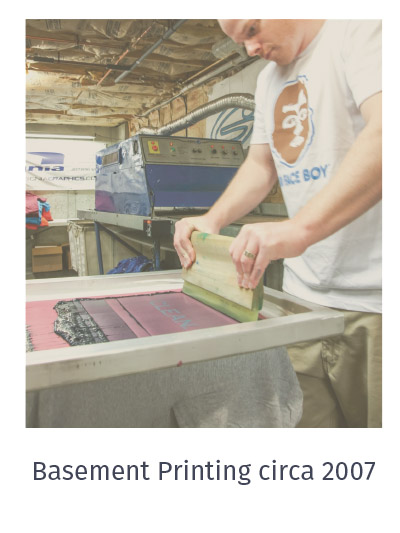 320 was born in a basement in 2007. Just out of the military, married with 2 children, working a full time job, and going to night school to finish his degree, our founder invested what little money he and his wife had saved into a modest printing press and curing unit. Having no experience in the industry, aside from hand drawing on t-shirts as a child, he taught himself how to screen print, and as it turned out, he was pretty good at it! If you know Drue, you know he tends to be a perfectionist. That trait paid off as his attention to detail when printing quickly set 320 apart from other area printers. In a short time, the company had grown out of the small basement, and moved into a modest warehouse space and hired its first employees, who were trained to print to the same specifications and quality that our customers had grown to expect. In time that space was outgrown as well, and we moved into our current 5,000 sq/ft industrial facility in Gorham, where we continue to innovate, and grow.
Fill out the form below and we'll be in touch with you lightning fast!