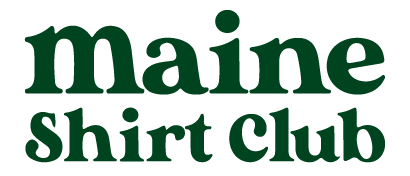 Ayuh. Whether you're a native Mainah, a transplant who fell in love with the trees & the rocky coast, or someone who moved away and will always have a place in your heart for Maine, you will love our beautifully designed Maine themed t-shirts. These shirts are designed and printed in Maine, on the softest tees evah.
Here's how it works: You sign up for yourself or someone else (Makes a great gift!) You enter the size shirt and the address you want it delivered to, we send you our official Maine Shirt Club tee right away (perfect to wrap up for under the tree) and then going forward you receive your new shirt the first week of every month!
*$12 a month plus $3 flat rate shipping to anywhere in the continental US.